MACS - Management Cycle Simulation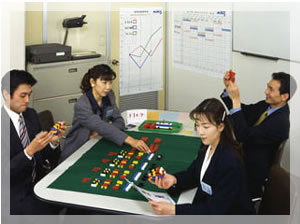 Kaizen, Kaikaku, Dandori (for productivity improvement)
Teamwork/Cooperation
How to make profit
Best Suited For:
Managers / Leaders
People for Kaizen activities
Advantages: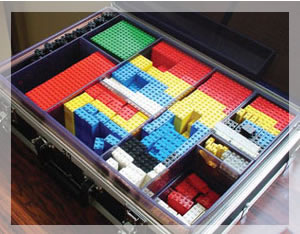 Participants can be aware of the Kaizen effects as measurable results from their own activities using bricks to fabricate products.
Participants can work very seriously with high motivation because they are enthusiastic in vying with competitors.
Participants can recognize the importance of teamwork and communication for organizational success.
The results of corporate activities are calculated into financial statements, which reminds the participants of cost and profit.
The training course is standardized thanks to the well-designed tools and textbooks.
Outlines:
Plan
Making a sales and profit plan
Scheduling corporate procedures
Do
Purchasing materials
Manufacturing and delivering products
Check
Settleing an account and making financial statements
Analyzing the problems and their causes
Action
Making Kaizen plan
(Finding solutions and/or precautions and making actual plans for procedure)
Each "company" carries out this process three times.
Through the procedures, each participant can learn how to make Kaizen effectively and efficiently.
They can also recognize the importance of Q (Quality and Quantity), C (Cost and Cash flow), D (Delivery term and Deadline) and S (Safety and Services).
International Applications:
We have English, Chinese and Korean versions as well as the original program in Japanese.
Customization is available, considering the differences in cultural backgrounds, management styles, etc.
Anyone can run the training courses with the packaged tools and textbooks under the licensing agreement.
Contents: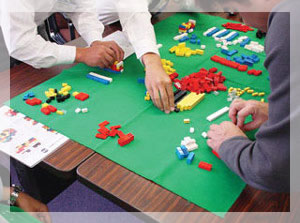 This simulation program is modeled on the business process of an automaker. Each group of five to seven participants runs a company over the three terms.
1st Term

Each company fabricates and sells trucks designed by customers.
The objectives of this term are to learn the simulation process and to find matters and issues for kaizen. Some action plans are made for the 2nd term.
The participants also make sense of basic financial knowledge by settling an account individually. The instructor gives a lecture on how to earn profit.
2nd Term

Each company fabricates and sells both trucks and buses. The truck is the same one in the 1st term.
Each company can design the bus freely within the restrictions requested by customers.

The objectives of this term are to put the Kaizen process into practice and to make a firm plan for profit. The participants can also recognize the responsibility of each business division and the importance of their cooperation.
3rd Term

Each company fabricates and sells both buses and sports cars. The bus can be re-designed for cost reduction. The sports cars, designed by each company, are sold by bidding system at several markets.
The objective of this term is to make a marketing strategy as well as to repeat the Kaizen process.
After the three terms
After the three terms, each company reviews the results and activities to utilize the leaning practically at one's own workplace.
The standard program is a two-day course. However, we can customize the program at the customers' requests.
Message from Participants:
machinery company

"I have learned much from failure in the simulation. I could find a lot of Kaizen points from the mistakes and troubles. I will utilize them at my own work."

transportation company

"I have understood the basics of 'organization' by this management simulation."

metal products company

"I could recognize the importance of communication with other departments."

machinery company

"I have learned a lot with fun, because it was not lecture-oriented but practice-oriented."

metal products company

"I could experience the roles and jobs at the other departments of my own, such as sales and production."

transportation company

"I have understood the whole corporate activities from planning to manufacturing and selling."