Multi-dimensional Evaluation System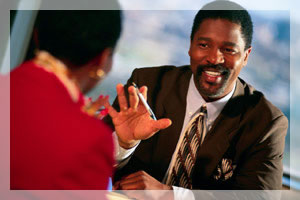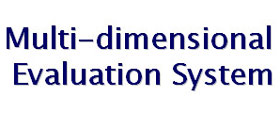 Personal evaluation for the development of people and organizations
Assessment on promotion
Planning of personal skill development program
Best Suited For:
Personnel division
HRD division
Advantages:
Our tools do not evaluate people only by the results that the points are high or low.
The individual feedback report is given to each person with a statistical analysis for the whole organization.
The reliability is high because each person is evaluated by a large number of people. (the law of large numbers) In our system, the person to be evaluated does not choose evaluators.
If the number of evaluators are small, they tend to evaluate the people averagely to avoid their influence on the results.
Another characteristic of this system is that evaluators in a little relationship with the person can make evaluation. We believe the intuitive power of observation as the human's nature.
Our tools are based on the experience at many companies for more than 20 years. The security of the data is keep because the system is built within the closed local network.
Flexibilities:
The questionnaires can be modified at the clients' requests. Our system is fit for the mission or strategy of any company.
The structure and style of feedback description can be customized. The statistical analysis can be also used appropriately for the client companies.
International Applications: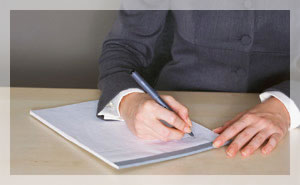 We have much experience of these evaluation systems in Japan, Korea and China.
If you use this system in other language, we will help you in not only the linguistic translation but also the modification on the difference of management styles and business cultures.
Evaluation Process:
Questionnaires are sent to all eligible evaluators in the company or organization. Each evaluator freely chooses the persons whom he/she evaluates without any direction from others. The more evaluators lead to the mote meaningful results because of the law of large numbers. Usually, each person is evaluated by some 20-50 evaluators from the multiple viewpoints in the questionnaire.
The evaluation data is put together within the targeted company or organization. A sample of radar chart is attached in the lower left. It shows the average scores of each question.
Here, we use our original "ranking method" in the analysis. We emphasize on the ranking of the persons in each question by one evaluator rather than the total scores. We believe that such ranking greatly helps indicate the actual status of the people in the company or organization.
Next, the data is analyzed statistically. A number of meaningful correlations between the factors are found out.
A sample of the result of multiple regression analysis is shown in the lower right.
Using such results, we can recognize the characteristics of the people and/or organization and search for the targets and strategies of development.
The individual feedback report is given to each person with the statistical analysis, which can help the person conscious of his/her self-improvement.
Sample of Charts: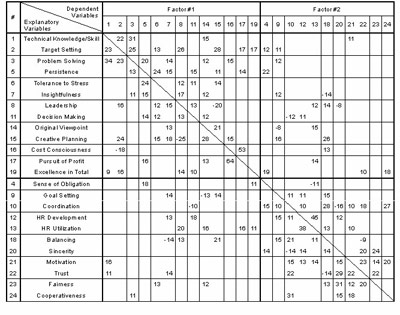 Message from Participants:
heavy industry company

"I can understand the people as if I had worked with them for a long time."

metal products company

"The individual reports are meaningful for the personnel division. The data is very helpful to decide promotion"